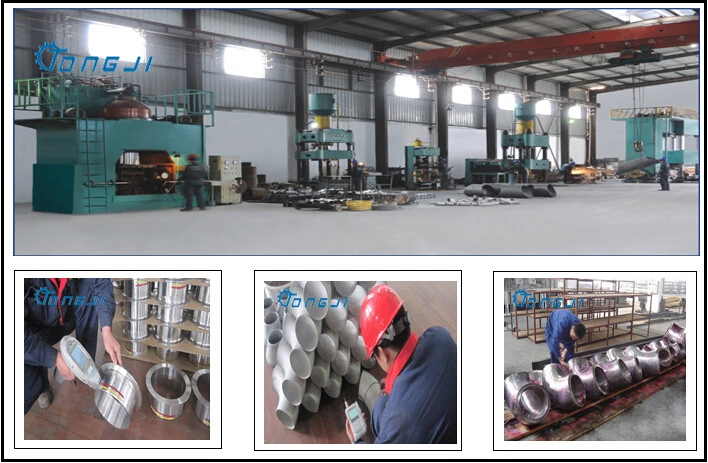 TongJi are able to supply complete and broad inventory of industrial Titanium pipe fittings. All kind of forged, seamless and welded fitting are available in different types, sizes.
Tpyes:
Coupling Flexible Elbow 45 Reducer Concentric
Coupling Rigid Elbow - 90 Reducer - Eccentric
Cross / 4-Way Elbow - Other Angle Return Bend
Collar/Stub end Elbow Reducing
Expansion Joint/Coupling
Pipe Cap Side Outlet Elbow Tee Bullhead
Pipe Plug Side Outlet Tee Tee Reducing
Pipe Union Nipple(Hex) Tee - Standard
Sizes: From 1/2to 48 (Seamless Pipe Fittings), From16to 72 (Seam Pipe Fittings)
Wall Thickness: Sch5S to Sch XXS
Commodity
Titanium Pipe Fitting( Elbow, Ubend, Reducer, Tee, Stub End etc.)
Process method
Forged, Hot extrusion, Welded, Grind
Materials Grades
WP1, 2, 3, 7,12, 16 etc
Standards:
ASTM B363, ANIS B16.5, ANSI B16.47 , ASTM B381 or closer.
Size
NPS 1/2" to 48"(Seamless Pipe Fittings) ,16″to 72″ (Seam Pipe Fittings)
Wall Thickness: Sch5s to Sch XXS
as per drawing.
Condition
Annealed or as requirement
Inspection Testing
Mechanical Test, Hardness Test Ultrasonic Test, PT, MT, Hydraulic Test
or as required
Certificate
EN 1024 3.1/ 3.1B/ 3.2, PED, DNV, TUV.
Packing
Wooden case/ Steel framed plywood case/ simple packing.
Delivery Time
By mutual agreement.