Titanium Aluminum Sputtering Targets are produced by HIP technology, widely used for tool coating and decorative coating.Comparing with melting technology, TiAl targets produced by HIP technology have more uniform micro-inner structure, smaller grain size, and suitable for various magnetron sputtering machines and ion plating machines. End user can obtain constant erosion rates as well as high purity and homogeneous thin film coating during PVD process.

The tools coated by TiAlN thin films have higher feed speeds, better cutting performance, longer service life and higher metal removal rates can be achieved without difficulty.

Titanium Aluminum Sputtering Targets and arc cathodes also are also used for decorative coating, to coating golden brown and brownish black color films. End user can obtain good hardness, high brightness, corrosion and oxidation resistant color without discolor for a very long time. Our targets have already been qualified by many ender users, inculuding manufacturers of watch, sanitary ware, car mirrors, etc.

Features
Chemical Composition (at%): TiAl 25/75, TiAl 30/70, TiAl 33/67, TiAl 40/60, TiAl 50/50, TiAl 75/25
Segregation of weight: +/-0.2wt%
Available Purity: 2N5, 2N8, 3N
Production Technology: HIP
Shapes: planar targets, rotary target
Average Grain Size: < 100um
Available targets / cathodes for tools coating application
Target /cathode

Materials

Materials of Coating

Hardness Hv

Reaction atmosphere

Ti

TiN

2000

N2

Ti

TiCN

2480~2800

CH4+N2

Zr

ZrN

3000

N2

Zr

ZrCN

3200~3400

CH4+N2

TiAI

TiAIN

2400~2900

N2

AlCr

AlCrN

2400~3000

N2

Cr

CrN

1500

N2

Cr

CrCN

1500~2000

CH4+N2

Hf

HfN

2750

N2
Available targets / cathodes for decorative application
Target / cathode Materials

Purity

Color of coating films

Ti

2N5, 2N7

Golden yellow, light yellow, golden

Cu

3N5

Zr

2N4

Ag

4N

Silver

Cr

2N5, 2N8, 3N, 3N5

Al

2N5, 3N, 4N

Sn

3N, 4N

TiAl

2N6

Black, gun black, steel

Si

5N

SUS 304, 316, 316L

2N

SiO2

4N

Steel color, tungsten steel color

TiO2

3N5

Transparent color, seven colors

SiAl

3N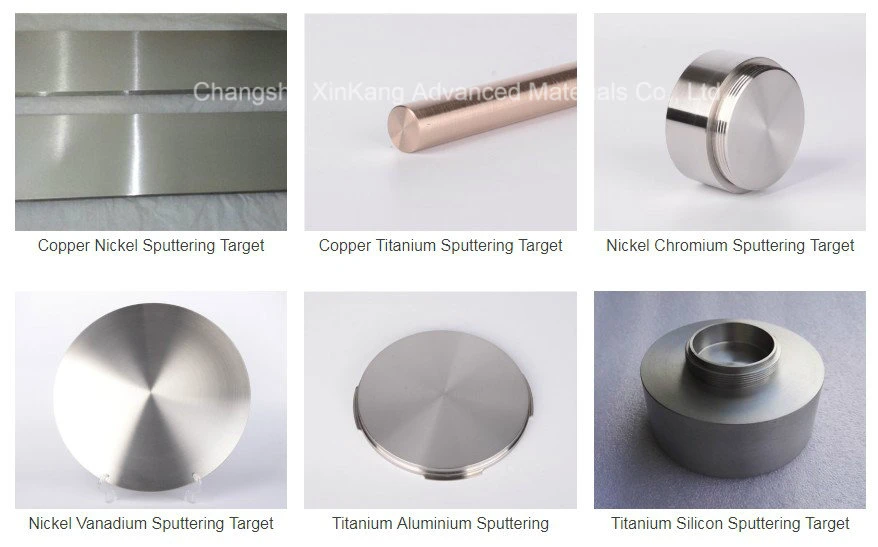 PRODUCTION PROCESS